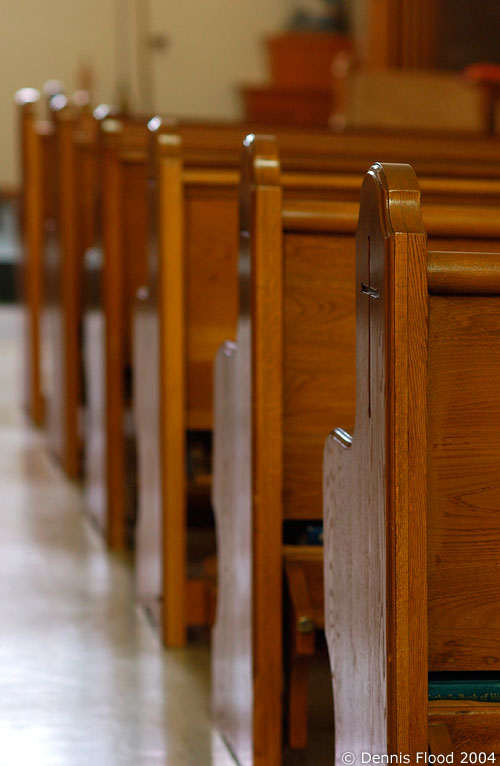 The Problem
So what is the cause of this problem? Where did the idea come from that all you have to do to receive eternal life is to say a prayer and believe in Jesus? Why isn't there fruit in the church of Christians turning away from sin? I believe this is a product of the modern seeker-friendly church for

(1)

isolating scripture and

(2)

lacking biblical doctrine
(1)

Many of you have probably memorized John 3:16 because it has been used so often for evangelism. There is nothing wrong with this passage, yet there is a danger in isolating this verse and coming to the conclusion that all you have to do to is
believe
in Jesus and you will have eternal life. The scriptures need to be sought out to find the context for the verses and be contrasted with other verses that speak on the same topic.

Here is an example- If I thought that my hands were the only thing needed for catching a football, I would be very wrong. My arms, my eyes, legs, and body are also important parts for catching a football. My hands do the act of catching the football but they could not do so without the rest of my body.

The church is advertising that you just need your hands to catch a football; all you need to do to get eternal life is to
believe
in Jesus. Now, please don't misunderstand me. I'm
not
saying that believing in Jesus is

not
an important part of receiving eternal life. I'm saying that there is much more to the Christian walk of faith. Teaching that you just have to
believe
is false because scripture shows that there is more to Christianity than belief.

So isolating scripture is one of causes of the problem of Christians believing they are going to heaven because they said a prayer and "believed". And as a consequence of this, churches lack good, sound, biblical theology and doctrine.
(2)

Lacking biblical doctrine. First, what is doctrine and theology? Why are they important? Doctrine and theology basically mean the same thing. Theology is the truths/principles or the study of truths/principles seen in nature and the bible, of God and His decrees for man, etc. Doctrine is the teaching of these truths. So they must go together. Why are they important? The bible is God's letter to us (2 Timothy 3:16) and if we claim to be His children we need to know what His will is for us; and we do that by studying His word and searching it out. One of the biggest doctrines that the church has forgotten is the

total

sovereignty of God (1 Timothy 6:14-16). They think that God needs our help in matters such as bringing unbelievers to Christ. So what the church has done is tried to make the Gospel more attractive so that more people will choose Him; as if God doesn't have control over whom He chooses to allow into His kingdom. Ephesians 1:3-5 says that God chose who would choose Him, before the foundation of the world. God does not need us. God is the one who leads men to salvation. By His grace, He allows us to be apart of His bringing someone to salvation but there is no room for us boast (Ephesians 2:8-9). The seeker-friendly church has downplayed the gospel and tried to create revivals with throbbing music, and pressure people into salvation."Jesus is knocking at the door. Will you let him in?" God is sovereign and there is

not

one

atom or

one

neutron or

one

nucleus that is

not

under His control. If God is going to save someone, He is going to do it. And we don't need to create false fire and emotion to get more people into God's kingdom.

So as a consequence of this view (that we need to make the gospel more attractive to get more people saved), the gospel has been downplayed to simply believing in Jesus. Thousands of people get "born again" at Easter and Christmas services and then they go right back to their evil, wicked ways without thinking twice. And they do it with the belief that they are going to heaven because they believed in Jesus. Where is the change? If God was truly working in their lives they would be changed; they would be a new creation.
2 Corinthians 5:17
Why isn't there a turning away from sin and a distaste for it?

Paul Washer, a wonderful teacher and missionary gave this example.- If he was late to teach at a conference and everyone was asking why he was late. and he answered that he got run over by a logging truck, and that was why he was late, everyone would think he was either crazy or lying. Why? Because, if he had truly been run over by a truck he probably wouldn't be alive and most definitely would not have made it to the conference without some change.

Then he asks "What is bigger? A logging truck or God? If you have really encountered Jesus then there

will

be a change."


Sadly, there are so many people who claim to be Christians, yet there is no change.

There is no change. They are no different from the world.

Jesus tells us in Matthew 7
:

17
- "So
every good tree bears good fruit, but the bad tree bears bad fruit.
A good tree cannot produce bad fruit, nor can a bad tree produce good fruit.
Every tree that does not bear good fruit is cut down and thrown into the fire.
So then, you will know them by their fruits."
Is the Church bearing good fruit?
The Solution

Is there a way to solve this problem? I would like to suggest 2 ways in which I believe this problem can be solved. First, (1) Repentance to God and a turning from sin, and (2) and a continual studying and teaching of the word of God and its principles.

(1) Repentance. We need to repent of our tolerance of the very things that God hates. "But wait, isn't God Love?" God

cannot

be a God of Love unless He is also a God of Hate. God loves righteousness and holiness, therefore he hates wickedness and unholiness.
Deuteronomy 16:22
Psalm 11:5
Proverbs 6:16
Isaiah 66:17
If I truly love life I will hate murder and abortion because they destroy that which I love.

If being seeker-friendly means tolerating habitual sin in the church, then we should throw away the whole idea of being seeker-friendly. God hates sin because he is holy.

I remember as we attended this mega-church over the years, we realized that there were so many people who came to church while at the same time practicing sin willfully. Recently divorced men would come to church with their new live-in girl-friend and take communion as if God didn't care about how they live! And they believed they were going to heaven because they said a prayer and believed! Now, I can't judge whether or not those men are going to heaven but the scripture does say "
Every tree that does not bear good fruit is cut down and thrown into the fire."
Those men

may

have been true believers who were struggling, yet if they were truly saved and they had the Holy Spirit they would be bothered by their sin. And when they stumble, there would be repentance.


Jesus said in
Matthew 3:8
" Therefore bear fruit in keeping with
repent
ance;"
2 Peter 3:9
The Lord is not slow about His promise, as some count slowness, but is patient toward you, not wishing for any to perish but for all to come to
repent
ance.
The Bible calls us to repentance, and that is what we should be doing.


(2) The Teaching of the Word of God.
It seems that mega-churches tend to shy away from doctrine and theology because its not very seeker-friendly. But if the church is neglecting to teaching the word of God for the sake of being seeker-friendly then maybe they shouldn't be seeker-friendly. The church is for those who are Christians, "the saints", and we should not compromise our teaching for the sake of "seekers".
From what we have seen, the teaching at mega-churches seemed shallow. They kept re-presenting the gospel because they were targeting the non-believers. Sin was not condemned because it might offend seekers. There were also many "self-help" programs that seemed to imply that man has the power to conquer his own sin; he just needs to try harder.
When in truth, we are dead in our sins and cannot save ourselves. The only one who can save us is Christ.

Another important doctrine that I believe the seeker-friendly church has forgotten is the doctrine of election. God has elected those whom he has chosen, before the foundation of the world. And its not our responsibility to try and get as many people into heaven as possible.
God is in control and He can take care of that.
Our responsibility is to preach the word of God, spread the gospel and make disciples of many Nations.

In conclusion, I've presented a problem that is faced in many churches today; that many
people
claim to be Christians yet their lives don't show it and their only commitment is that they go to the Christmas and Easter Services. I suggested a solution that would I believe would solve this problem. Repentance and the preaching of God's word.




Here is a really good sermon by Paul Washer on the very topic I've been blogging about.(Except he's alot better) It is soooo good! If you have a regular movie night or something, you should watch this video. It's about an hour long. It will most definitely be worth your time. Click here to see it.



If you have any comments, or if you disagree with any thing I said, or if you agree, feel free to comment. :)






Goodness! That turned out to be a very long and rambling post! If you've made this far, you are truly amazing!